Aged Care Jobs and Careers
Join a 7,500 strong team of individuals known for their natural passion and unique ability to enrich and celebrate the lives of our residents
Aged care jobs and careers
At Estia Health we care for over 8,000 residents annually, and this is made possible by a 7,500 strong team of individuals across our 68 aged care homes and offices in SA, VIC, QLD and NSW.
You may be looking for your next job to be closer to home, or seeking a rewarding career with a clear purpose. We're looking for unique individuals with a passion for caring to join the Estia Health family and help us transform and lead the aged care sector.
We feel privileged and proud that in our role as caregivers we are able to support older Australians and their families at such an important time in their lives. Whether your background is in hospitality or customer service or you're an experienced clinician - when you choose an aged care job or career at Estia Health, you will be both rewarded and challenged as you work in one of the most important sectors in Australia.
Experience Estia Health
The difference is you
At Estia Health, we believe every individual has the power to bring about positive change. And when those individuals come together, our impact knows no limits. With 68 homes across Australia, caring for over 8,000 residents a year, we have a clear purpose, which is to enrich and celebrate life together.
To enrich a life means that every small action can make a real difference. It's the compassionate and considered care that every member of our team delivers, that makes meaningful moments for our residents and their loved ones at the most important time in their lives.
We want to celebrate this time with our residents, their families and our employees and we feel privileged to be a part of some very special milestones in our residents lives. You can read about some of the wonderful moments we've been a part of here.
A family where everyone belongs
Our residents, their families and our employees often say they feel as if they're part of the Estia Health family, which is testament to the family code our organisation's purpose is built on: a family where everyone belongs. Our employees bring the Estia Health family code to life through a strong set of principles they demonstrate daily in their varied and valued roles.
We're always looking for new and better ways to deliver exceptional care, building on the continued dedication of our 7,500 strong team of individuals to make every day the best it can be for residents, their families and fellow team members. That includes us looking for unique individuals to join the Estia Health family to help us continually transform and lead the aged care sector. Together we can be proud of the difference we are making to people's lives.

Join us and be part of an organisation where differences are celebrated, your drive to learn is embraced and your unique view and approach is valued.
See how our employees demonstrate our principles and values every day in their varied and valued roles.
The Estia Health family
The Estia Health family as it stands today came together in 2014 following the amalgamation of three major, established aged care providers – Estia Health, Padman Health Care and Cook Care. We continued to grow with the Kennedy homes joining the Estia Health family in 2016. It was at this time that our organisation's One Family motto came to life as we worked together to understand each other's perspectives and celebrated each organisation's heritage, which is what makes Estia Health the diverse organisation it is today. It's a motto that stays true and is often quoted by employees when asked what makes Estia Health a special place to work.
As a publicly listed company, today Estia Health is one of Australia's larger aged care operators, with 68 homes in SA, VIC, NSW and QLD, caring for 8,000 residents annually and supporting their loved ones and family at an incredibly important time in their lives.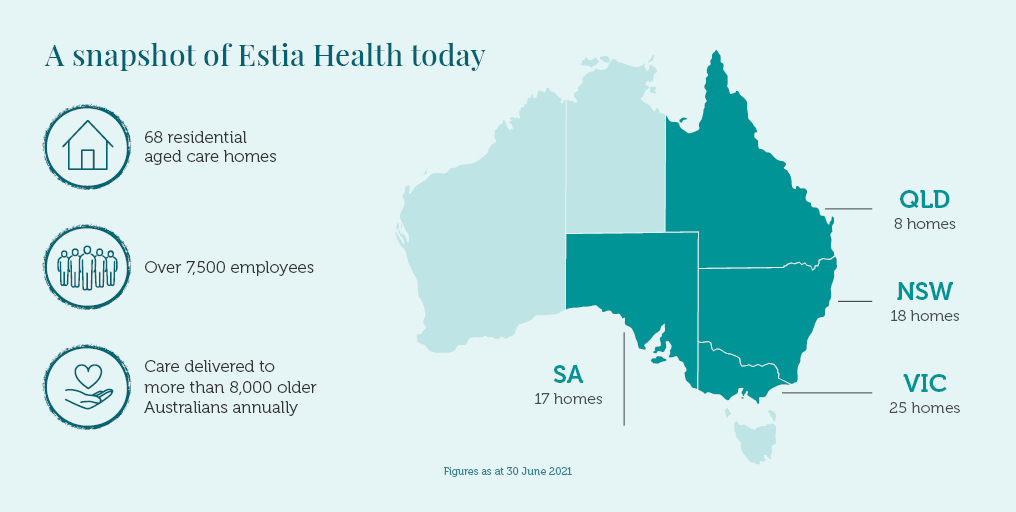 Homes led by passionate and experienced leaders
Our organisation is built on the foundations of strong governance, with experienced Board members supported by an Executive team leading the organisation with the aim to continually deliver the highest standards of care possible. It's these governance systems and experienced and passionate people that make Estia Health an organisation respected for our high standards of care and trusted to care for older Australians at such a crucial life stage.
Each of our 68 aged care homes is managed by an Executive Director, who oversees the running of the aged care home, supported by a Care Director leading a skilled nursing team rostered on duty 24/7, and with the support of care, hospitality and lifestyle teams, all focused on enriching and celebrating residents' lives.
Regional teams support homes with day-to-day operational activity, including human resources, purchasing, clinical care, customer service, hospitality and lifestyle and central services teams provide ongoing customer support including finance, billings, and communications.
Work in one of the fastest-growing sectors
Between 2019 – 2020 alone, over one million people used aged care services in Australia* making it one of the fastest-growing sectors in Australia. With the population continuing to grow and age, projections suggest the number of people aged 85 years and over will increase from just under 500,000 people in 2020 to just over a million people by 2040. As people live longer, with more complex and chronic conditions, they require a higher level of care that means they can no longer live independently at home.
It's undoubted that the aged care sector is undergoing a period of fluctuation and challenge. The Royal Commission into Aged Care Quality and Safety (the Royal Commission) handed down its Final Report in February 2021, containing 148 recommendations and many of these are complex, including the future of aged care funding.
We have a workforce strategy that is based on attracting, training and educating a dedicated workforce, offering people careers and opportunities to play a special role in the future of aged care and in making a real and lasting positive impact in people's lives.
*https://www.aihw.gov.au/reports/australias-welfare/aged-care
Roles at Estia Health
We're proud of the 7,500 people that choose to work at Estia Health, bringing their unique skills, perspective and passion to caring for our residents. Through their varied roles, they collaborate together to make a real and lasting difference to our residents and their family's lives. We celebrate our people's diverse backgrounds and the unique perspective and experience they bring to their roles. Meet some of our team below and read about their varied backgrounds, career journey and their experience at Estia Health.
What you can expect at Estia Health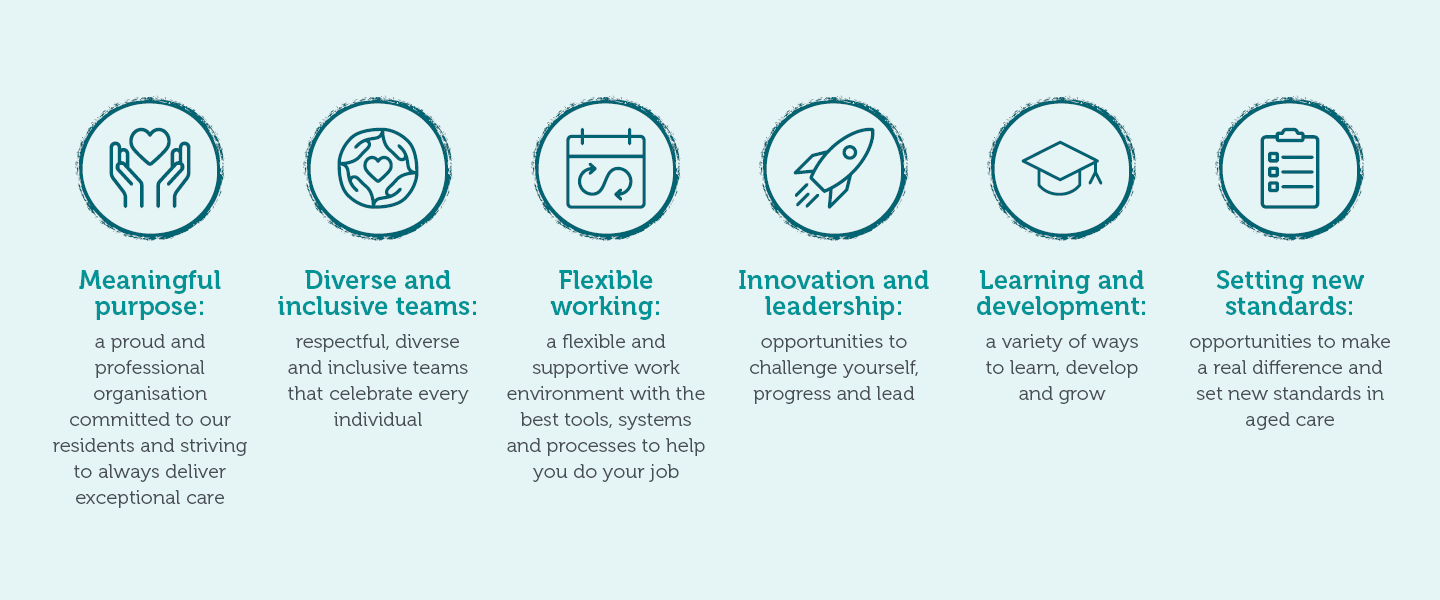 At Estia Health we expect
Frequently Asked Questions