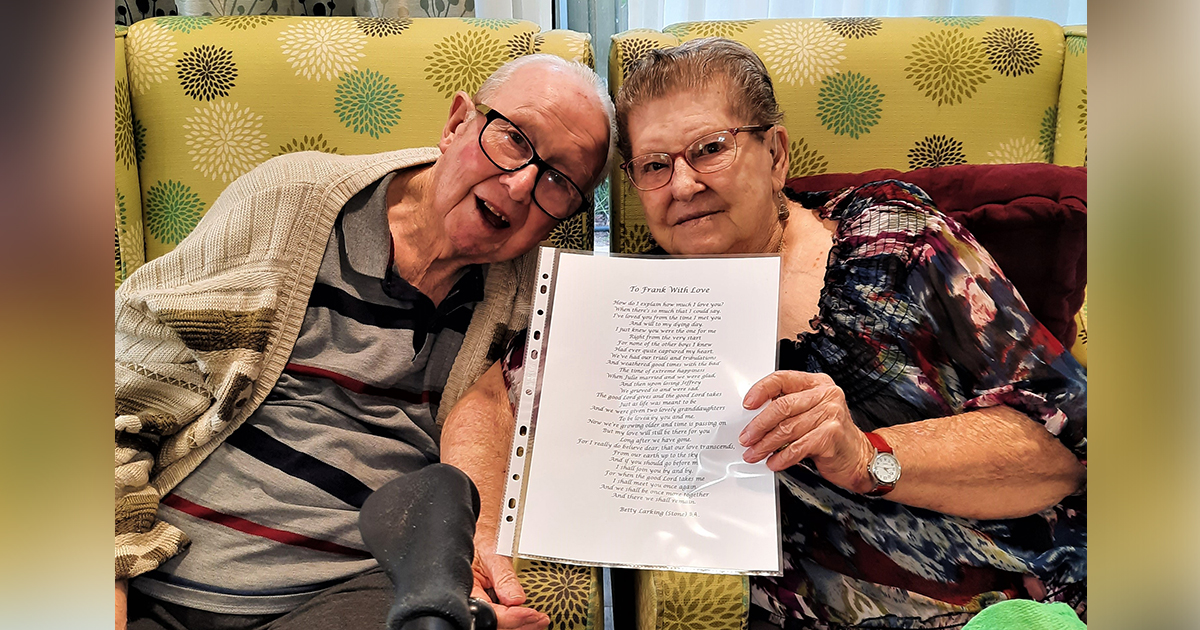 Every year on 14 February, we celebrate a special day, Valentine's Day. It's an opportunity to tell that special someone how you truly feel. Whether it's your husband or wife, long-term partner, new love or someone that's not even aware of how you really feel about them! It could also be your chance to put pen to paper and bring your creative side to life, with a special poem.
In preparation for Valentine's Day we hosted a poetry competition, asking residents to send in their poems. We received wonderful poems, making it hard to select our winner, but in the end, Betty was our winner, having written this very, very special poem for her husband Frank:
To Frank With Love
How do I explain how much I love you?
When there's so much that I could say.
I've loved you from the time I met you,
And will until my dying day.
I just knew you were the one for me,
Right from the very start.
For none of the other boys I knew,
Had ever quite captured my heart.
We've had our trials and tribulations,
And weathered good times with the bad.
The time of extreme happiness,
When Julie married and we were glad.
And then upon losing Jeffrey,
We grieved so and were sad.
The good Lord gives and the good Lord takes,
Just as life was meant to be.
And we were given two lovely granddaughters,
To be loved by you and me.
Now we're growing older and time is passing on,
But my love will still be there for you,
Long after we're gone.
For I really do believe my dear, that our love transcends,
From our earth, up to the sky.
And if you should go before me,
I shall join you by and by,
For when the good Lord takes me,
I shall meet you once again,
And we shall be once more together,
And there we shall remain.
~ Betty
Betty wrote her poem for her husband Frank – they've been married for 67 years, meeting at Frank's cousin's party. And even though Betty had a couple of admirers that evening, she says it was love at first sight when she met Frank. Here they are pictured together, proudly displaying Betty's winning poem having received chocolates and special Valentine's Day messages from each other, before enjoying a concert at the home in the afternoon.
We also have our runners up, who wrote beautiful poems:
Let's run away
Anywhere I don't care
It doesn't matter as long as you are there
Sydney, Adelaide, Melbourne are all fine
So long as your hand is in mine
You're the one I want by my side
So if you say yes we will decide
Where we will go when it's just us two
It doesn't matter so long as it's with you.
~Liz
My Darling Nerelle
I thank god every day when he sent me your way.
Was it love at first sight?
Well for me, I believe it might.
When I held your hand in a clutch
It was like heaven to touch
I thought this cannot be true for, I could not take my eyes of you.
When I walked you home that night
I knew it was a case of love at first sight
You said back then that you were mine
So today, will you be my Valentine?
~Lionel