24 March 2023
Oakleigh East celebrates Greek Independence Day
Estia Health Oakleigh East Residents, Families and Friends had a wonderful day celebrating an important day with the Greek community.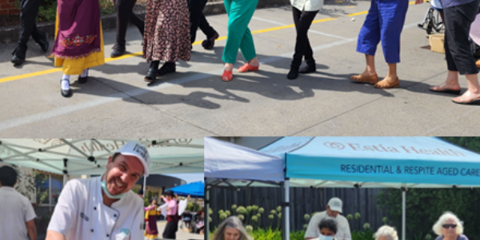 Celebrating life together
Staff got together to organise this lovely day for our residents, families, and friends. We do many activities and events to support our Greek residents and we all have so much fun 'Celebrating Life Together'. Our Chef showcased the delicious Greek food we provide for our residents with Moussaka and Souvlaki cooked onsite. Freshly made Greek coffee made by our lifestyle team and some wonderful volunteers Nick and Anna. The music and dance performers asked residents and visitors which region of Greece they had come from, and they played music and performed dances from various regions of Greece, which was a very personal touch for our residents.


One of our family members Soula summed up the day beautifully - 'A lovely afternoon spent out in the sunshine, blue and white balloons swaying in the breeze, with food and drinks, coffee and sweets, music, dancing Greek-style and celebrating Greek Independence Day. It was good to see the residents, their families and the staff joining in the festivities. My mum and I certainly had a wonderful time. A big thank you to the staff for organising this special day.'