05 July 2023
Celebrating NAIDOC Week 2023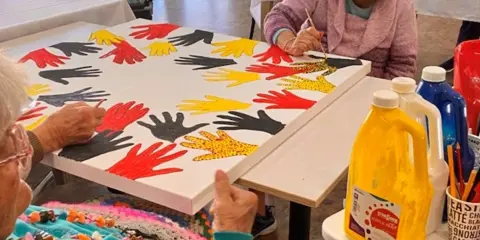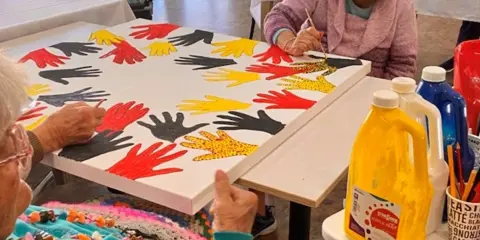 National NAIDOC Week is an annual event that celebrates the culture and history of Aboriginal and Torres Strait Islander peoples. The theme for 2023 is 'For Our Elders', acknowledging those who have played an important role guiding and teaching their communities.
NAIDOC Week was celebrated in style at Estia Health in Forster on Monday. Local Worimi Elders came out to our home and performed a smoking ceremony for morning tea and told a short story about the area.
They were joined by local kindergarteners who sang a song about country and land and there was a gorgeous handprint artwork that they had spent time making in the background.
Aunty Jan and Aunty Fay, elders from the area attended the event. Aunty Jan, a local artist, produced the artwork for the placements used for the lunch table setting.
The remainder of the table setting was done by the residents during the week and the menu was all native food.


Here are all the delicious treats our residents enjoyed:
Morning tea had Golden Boys Damper with golden syrup
Lunch presented a choice of three meals
1. Kangaroo in native spices with sweet potato (as a close substitute to yams) and buttered beans
2. Chicken in native thyme
3. Grilled barramundi with native dukkah spice

For dessert, Pavlova with lemon myrtle custard and Lilly Pilly jam hand made by Chef Matt from a local tree.

Happy Hour included Kangaroo croutons and Barramundi croutons.